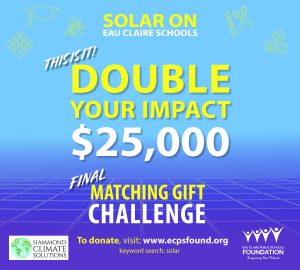 ECPSF receives Solar Moonshot grant, announces final match campaign to raise last dollars needed for Solar On Eau Claire Schools project
Solar power system expected to save schools $20,000 annually
[EAU CLAIRE, WI] Eau Claire Public Schools Foundation will receive a $25,000 grant from the Solar Moonshot Program to support the Solar On Eau Claire Schools project. The grant will match all gifts made through October 9, finalizing the funds needed for the project's costs.
"We applaud the Eau Claire Public Schools Foundation for bringing this solar project to fruition, and we hope it's a model for other educational foundations across the country to follow, contributing to a just and livable future," said Tara Hammond, founder and CEO of Hammond Climate Solutions, who manages the Solar Moonshot Program on behalf of Left Coast Fund, "Eau Claire Area School District's switch to solar will reduce costs that can be reinvested back into the schools, lessen dependence on dirty energy, contribute to healthier air and offer a tool to teach students about the need to transition to clean energy."
Eagle Point Solar of Dubuque, Iowa, which will begin installing at North High School next week, was selected through the district's competitive bid process and approved by the school board in July. Installation will progress to Memorial High School in mid-October. The project is part of the Solar on Schools initiative of Couillard Solar Foundation in partnership with Midwest Renewable Energy Association.
Solar on Eau Claire Schools is raising the $291,000+ needed to fund the electrical engineering design, installation, racking, and 25-year maintenance contract for the two arrays. The 720 panels for the project have been generously donated by Couillard Solar Foundation. A 126kW solar power system will be built at each high school campus. Combined, the 252kW of solar will produce enough energy each year equivalent to taking 33 average homes off the grid.
Installation is expected to be complete in November, with permission to turn on expected for December. Once turned on, the arrays' performance will be incorporated into the STEM curriculum at the two high schools, as well as expose students to career opportunities in the environmental and solar industries. In addition, the arrays will save the school district approximately $20,000 per year in utility costs.
Superintendent Mike Johnson shared enthusiasm for the project and its impact on the district's schools. "We are so grateful for this grant and its investment in moving our project across the finish line," Johnson said. "Solar on Eau Claire Schools will have a profound impact in our students' STEM education, as well as serve as a catalyst toward ECASD's sustainability goals."
Because the panels have been donated by the Couillard Solar Foundation, gifts to the Solar on Eau Claire Schools Fund support the remaining costs of the project, making it exclusively community supported. All gifts made to the fund through October 9 will be matched by the Solar Moonshot Program! To learn more and donate, click here:

-------------------------------------------------------------------------------------------------------------------
Eau Claire Public Schools Foundation is a nonprofit, independent organization that connects the community and Eau Claire Area School District to inspire and enhance the educational experience of our students. Through charitable donations gifted from community members and businesses, ECPSF is able to provide schools with their greatest needs, support educator creativity, and grow endowment funds to enable future giving. www.ecpsfound.org