Support Education!
Their success is our success.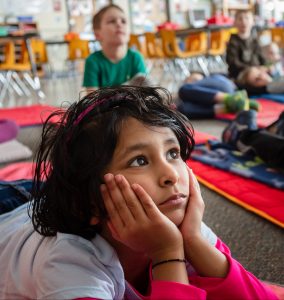 People will often ask why additional funding is needed for a public school district supported by tax dollars. The truth is, after the fixed overhead costs of salaries, books, materials, utilities, transportation, maintenance, etc., there is little money left over to invest in innovative projects, value-added experiences, or essential needs for our students. Important basics—even reading materials—cannot be fully funded. Private donations go directly to providing students and teachers with updated materials, motivational experiences, and valuable learning opportunities that enrich our respected education system.
Giving to the Eau Claire Public Schools Foundation is an effective way to add value to our schools, support educator innovation and student motivation, and leverage private dollars for the collective benefit of all Eau Claire Area School District schools.
Who donates to the ECPSF?
Eau Claire Public Schools Foundation donors include a wide range of people who recognize the strong connection between supporting public education and quality value added programs, projects and learning opportunities. The people who add quality to life in our community are:
Parents
Grandparents
Educators (current and retired)
Alumni
Community members (those who have no children or whose children are grown)
Businesses
Corporations
Private Foundations
Donor Satisfaction
It's no secret: giving makes people feel good! It's even better when you know your gift is going to a cause you are passionate about. Donations designated to specific schools or projects are strictly honored here at the foundation. And giving is a gift that keeps on giving: imagine the excitement in seeing students use the instruments, playground equipment, sporting gear, books, or fun event that you were able to sponsor. There is a need for every interest and an interest for every need: your donation could be the spark students need to have your interests become their interests.
Did You Know?
Poverty affects school performance and district achievement levels. The range from a low of 31% to a high of 81% represents more than 4,000 students in our schools who are living at or below the poverty level. Of these more than 22% have experienced living in a homeless situation.
Students in our schools come from homes where 19 different languages are spoken. These students need additional materials and support to succeed and stay in school.
Some of the musical instruments used in our schools are significantly older than both the students who play them and the teachers who instruct the students. It is possible to donate funds to buy an instrument or you can donate toward the purchase of your favorite instrument.
Funding for public education has remained the same since 2008 while costs for everything have gone up. Programs across the spectrum – from those for gifted and talented students to field trips for all – have been cut. A gift of $5, $25 or $100 can make a difference.
It costs $100 - $400 for a student to play in after school athletics. This expense is a hardship for many families and prevents students from participating.
Staff members routinely provide students with shoes, clothing, and bus money. A local church and Feed My People Food Bank work together to provide weekend meals for several schools with high percentage of families living at or below the poverty level. Teachers regularly use their own funds to meet classroom needs purchasing everything from teaching materials to snacks, glasses, and warm mittens.
At one of our elementary schools more than 80 percent of the students qualify for free or reduced-cost lunches.