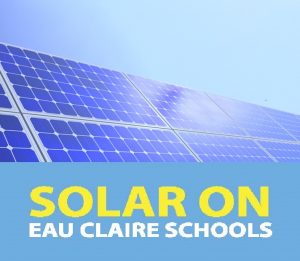 The Eau Claire Public Schools Foundation has raised the final monies needed for the Solar on Eau Claire Schools project! Thanks to match challenges and the community's advocacy, the project has completed its fundraising, and the solar arrays' installation is nearly complete.
A ribbon cutting is scheduled for Wednesday Oct 28 at 3:00pm atop Memorial High School's roof. The celebration has limited attendees due to the local public health order, though will be broadcast live via Zoom. The public is invited to attend virtually and can access the link here, (passcode: panels).
The Solar on Eau Claire Schools project, launched in December 2019, has raised more than $291,000+ to fund the engineering design, installation, racking, and 25-year maintenance contract for two solar arrays of 360 solar panels each. All 720 panels for the project were donated by the Couillard Solar Foundation.
Eagle Point Solar of Dubuque, Iowa was named the installer for the project, from the school district's competitive bid process. North High School's installation was complete earlier this month, and Memorial High School's is wrapping up this week. Permission to turn on is anticipated for December 1.
Once turned on, the solar panels' performance will be incorporated into the STEM curriculum at the two high schools, exposing students to career opportunities in the environmental and solar industries, and saving Eau Claire Area School District approximately $20,000 a year in utility costs.
"We are so grateful for the community's support of this awesome initiative. Their investment is having a profound impact on our schools and planet for generations to come" said Eau Claire Public Schools Foundation Executive Director Sarah French. "Amidst a pandemic and all of the work our schools and community have undertaken, this project is a bright light!"
To learn more about the Solar on Eau Claire Schools project, or to donate to the schools, visit the ECPSF website at www.ecpsfound.org.