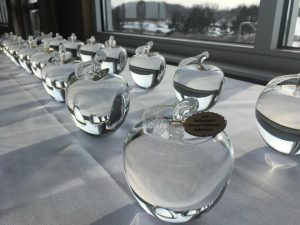 The Golden Apple is awarded by nomination from peers, and distinguishes one outstanding educator or staff member in each of the twenty Eau Claire Area School District schools and one amongst the district-wide support roles. The Eau Claire Public Schools Foundation partners with generous area businesses to honor and recognize exceptional service to our students and families.
Congratulations, Honorees! 🍎
Eau Claire Area School District honors Homeless Coordinator, Dani Claesges

Chippewa Valley Montessori Charter School honors Special Education Asst, Michele Branco

DeLong Middle School honors Math Teacher, Ben Albrecht

Flynn Elementary School honors 5th Grade Teacher, Cheryl Lawrence

Lakeshore Elementary honors Art Teacher, Erin Janke

Locust Lane Elementary honors Reading Teacher, Wendy Arneson

Longfellow Elementary School honors Playground Supervisor, Denise Hoenisch

Manz Elementary School honors Instructional Coach, Debra Erickson

McKinley Charter School honors School Secretary, Mary Schlageter

Meadowview Elementary School honors Special Education Teacher, Erin Peters

Memorial High School honors Special Education Teacher, Tracy Moran

North High School honors Science Teacher, Kevin Mesiar

Northstar Middle School honors 6th Grade Teacher, Tim Camlek

Northwoods Elementary School honors General School Asst, Karen Holman

Prairie Ridge Early Learning Center honors EC4T Teacher, Mariah Halling

Putnam Heights Elementary School honors Literacy Coach, Elissa Knight

Robbins Elementary School honors Special Education Teacher, Kelly Custer

Roosevelt Elementary School honors 1st Grade Teacher, Brittany Ferrell

Sam Davey Elementary School honors School Secretary, Jean Derfus

Sherman Elementary School honors Kindergarten Teacher, Janessa Derleth

South Middle School honors Spanish Teacher, Jacqueline Strayer
Congratulations, honorees! Tune in to the surprise visits on the 6pm WEAU 13 News with Bob Gallaher, airing one honoree/school per weekday all through February! We will cap all of the festivities off with a banquet on Thursday, April 16 at Wild Ridge! Tune in and join us for ALL of the fun!