About the Fund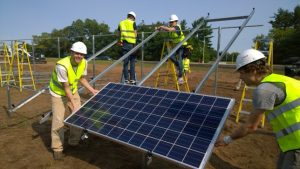 Solar on Schools was started by the nonprofit Couillard Solar Foundation (CSF), which is teaming up with the Eau Claire Public Schools Foundation to subsidize solar installations on local high schools. This project strives to not only reduce fossil fuel emissions but to save schools money on energy costs. Once the panels are installed, the Eau Claire Area School District will save over $20,000 a year in energy costs. Since it will be funded entirely through private donations, there will be no cost to the District.
In addition to reducing schools' energy costs, Solar on Schools educates students about alternative energy sources that are environmentally and financially beneficial. It aims to show them how clean, affordable energy can be produced on their schools.
The project's goal is to install solar panels on 100 schools across Wisconsin within the next 4 years. Cal Couillard, a Memorial graduate, would like Memorial and North High Schools to lead the way towards achieving this goal by installing 100 kilowatt solar arrays (360 panels) on each school.
Mr. Couillard has already donated half of the required solar panels, and an anonymous donor will match his gift when between $250,000 and $275,000 is raised for installation, maintenance, and other related costs. CSF is asking for community support to help them meet this goal.
You can help by using this fund page to donate online. You can also send a check to:
Eau Claire Public Schools Foundation
PO Box 511
Eau Claire, WI 54702
For information about making a gift through an IRA rollover or stock donation, call 715-852-3015 or email sarahfrench@ecpsfound.org .



























































= 10 panels donated.