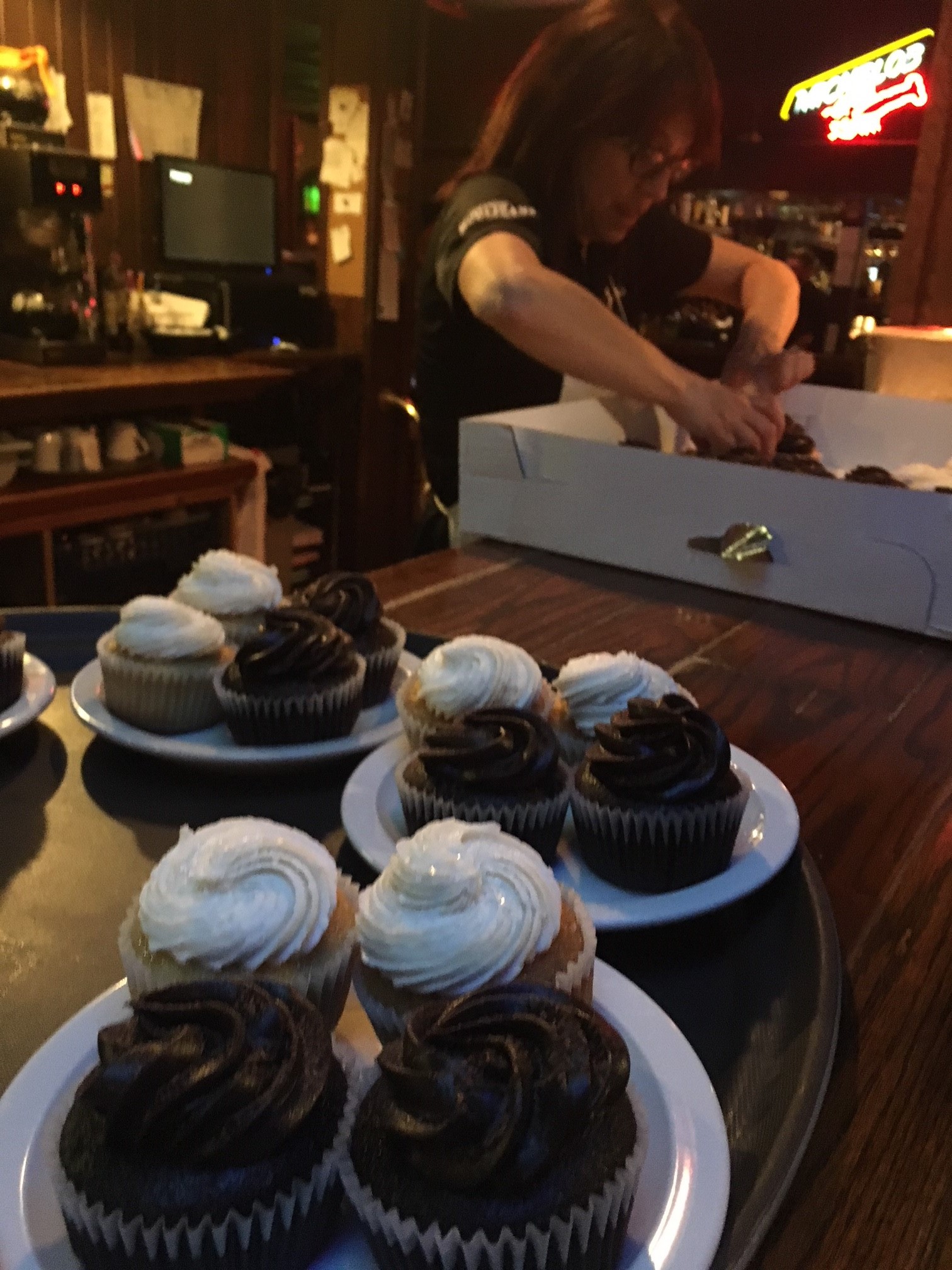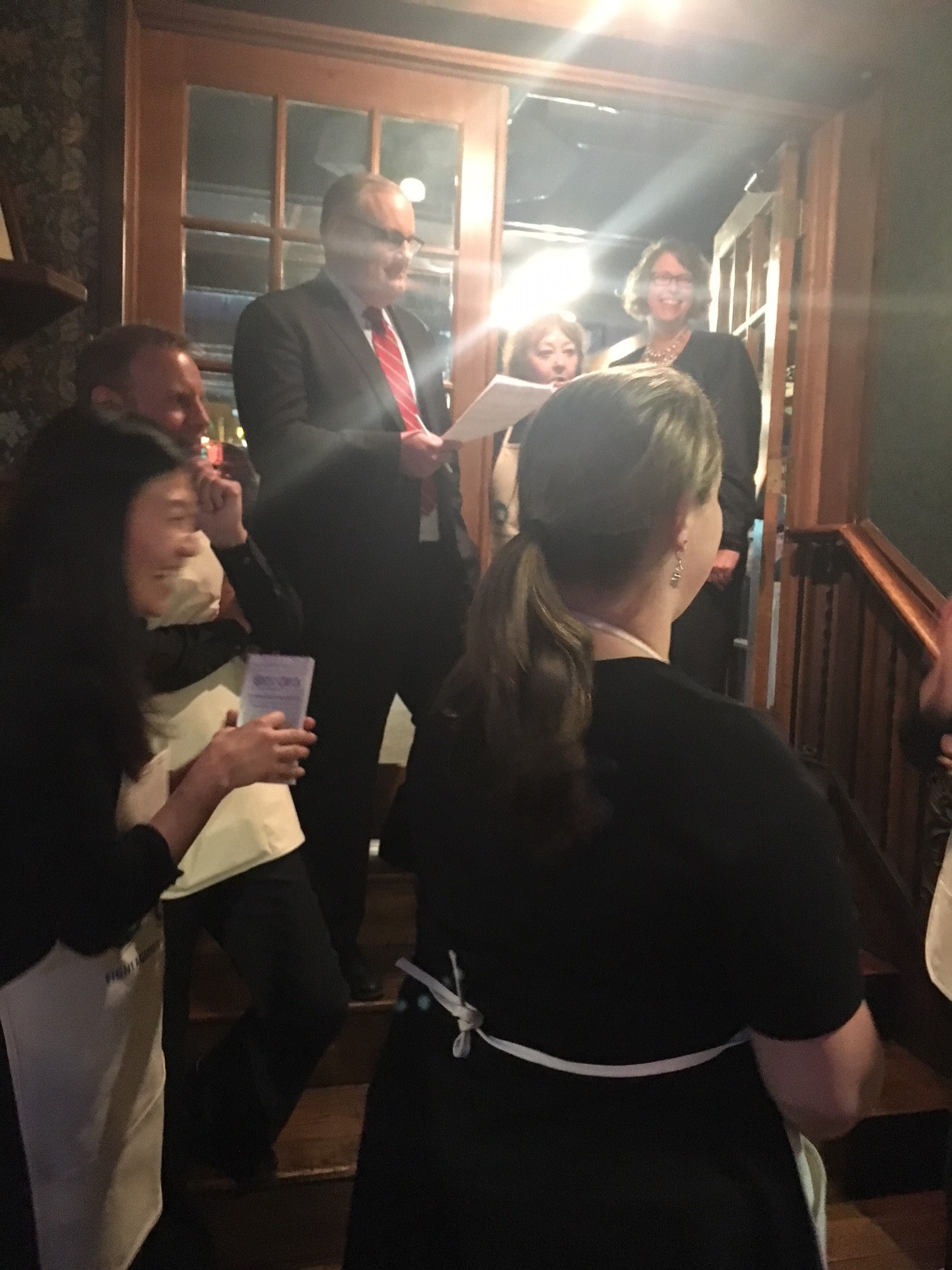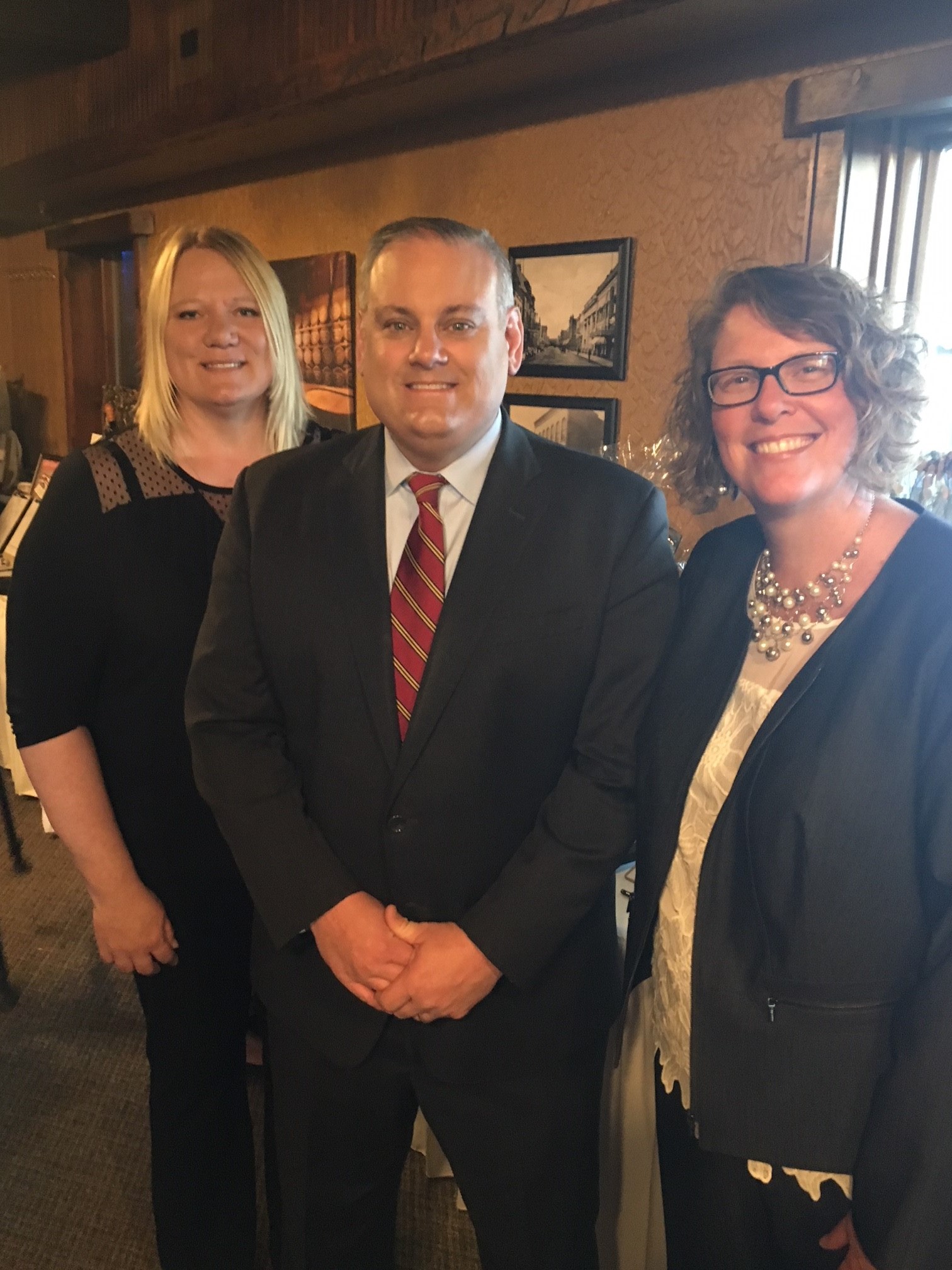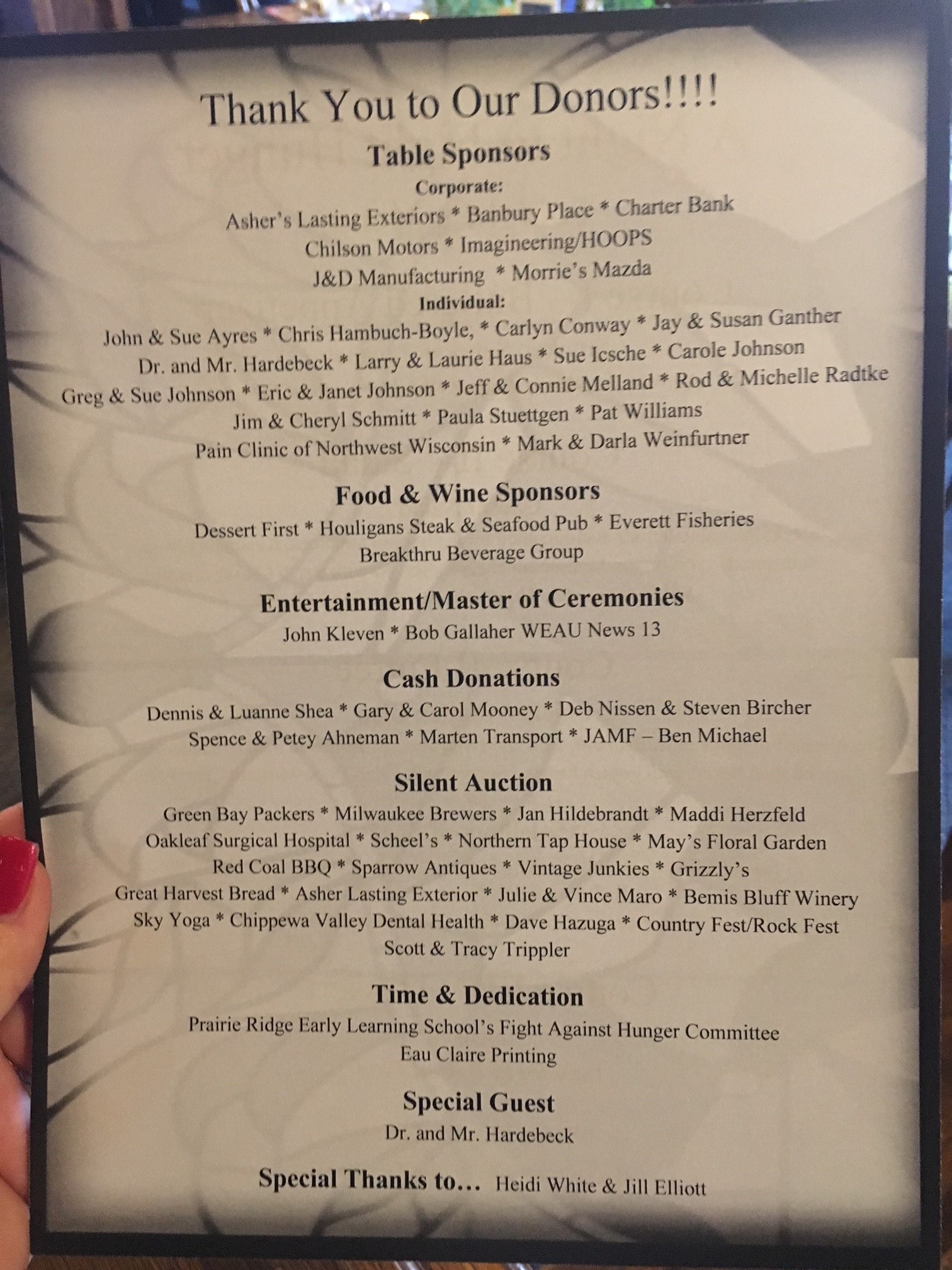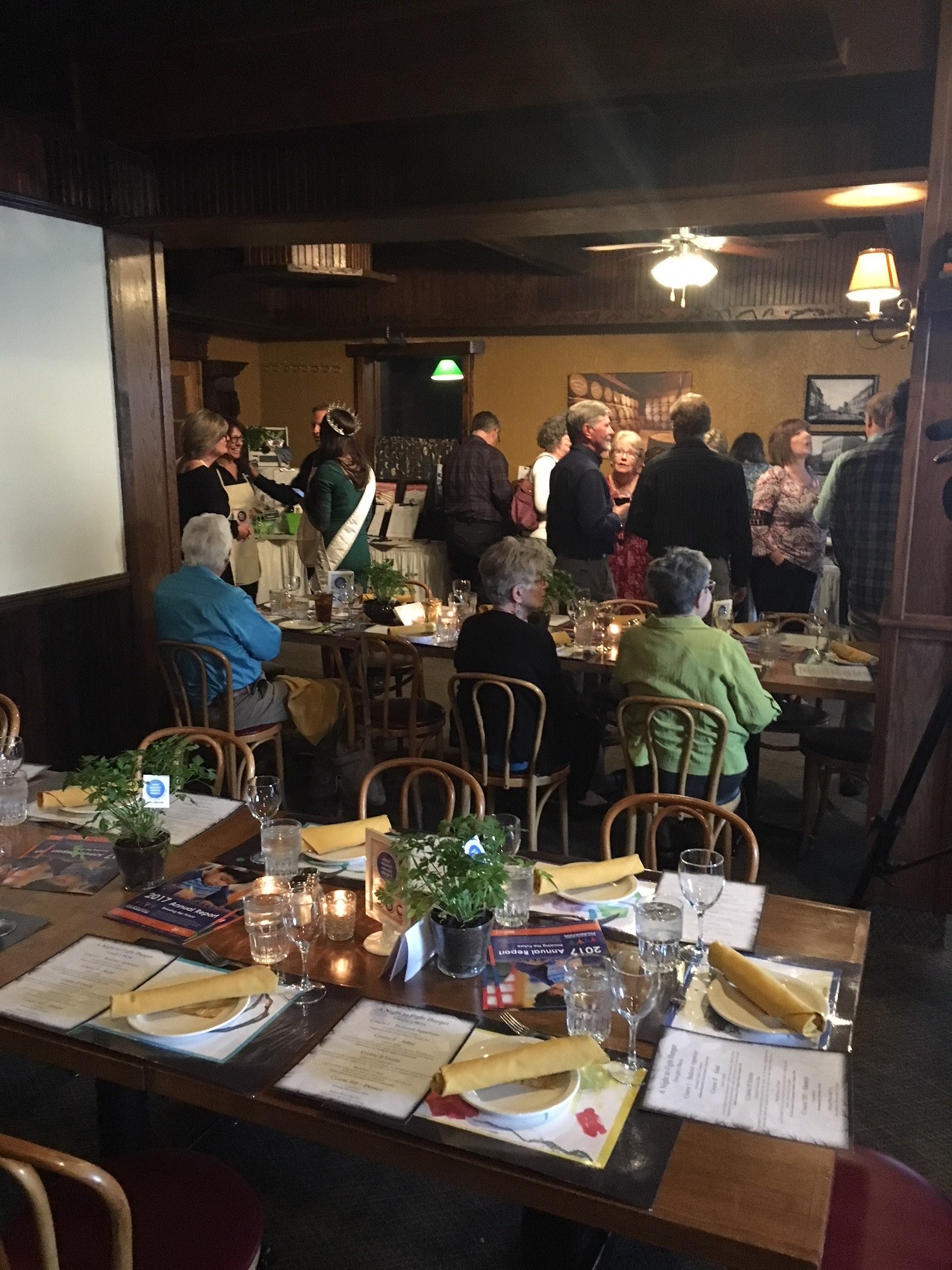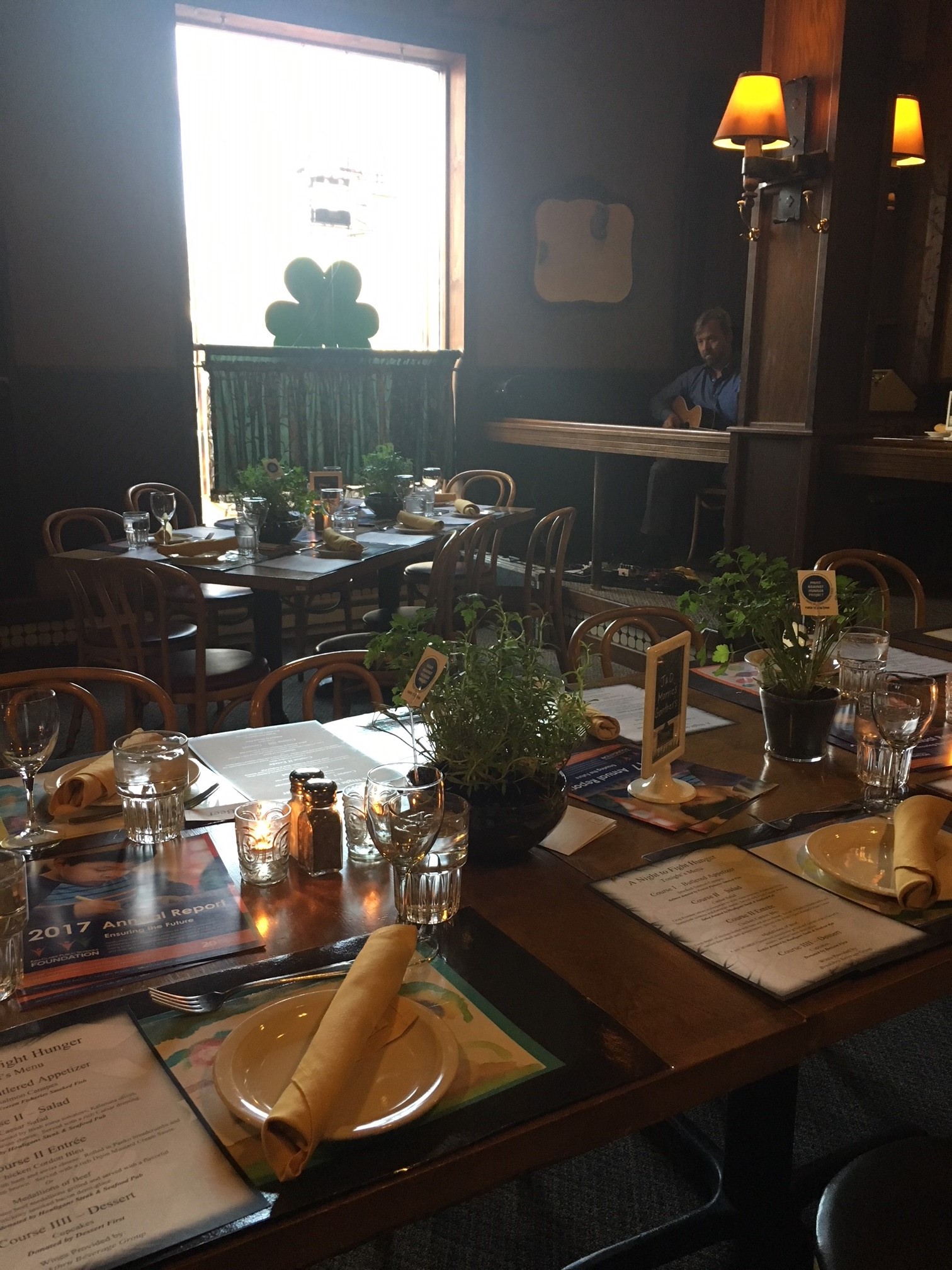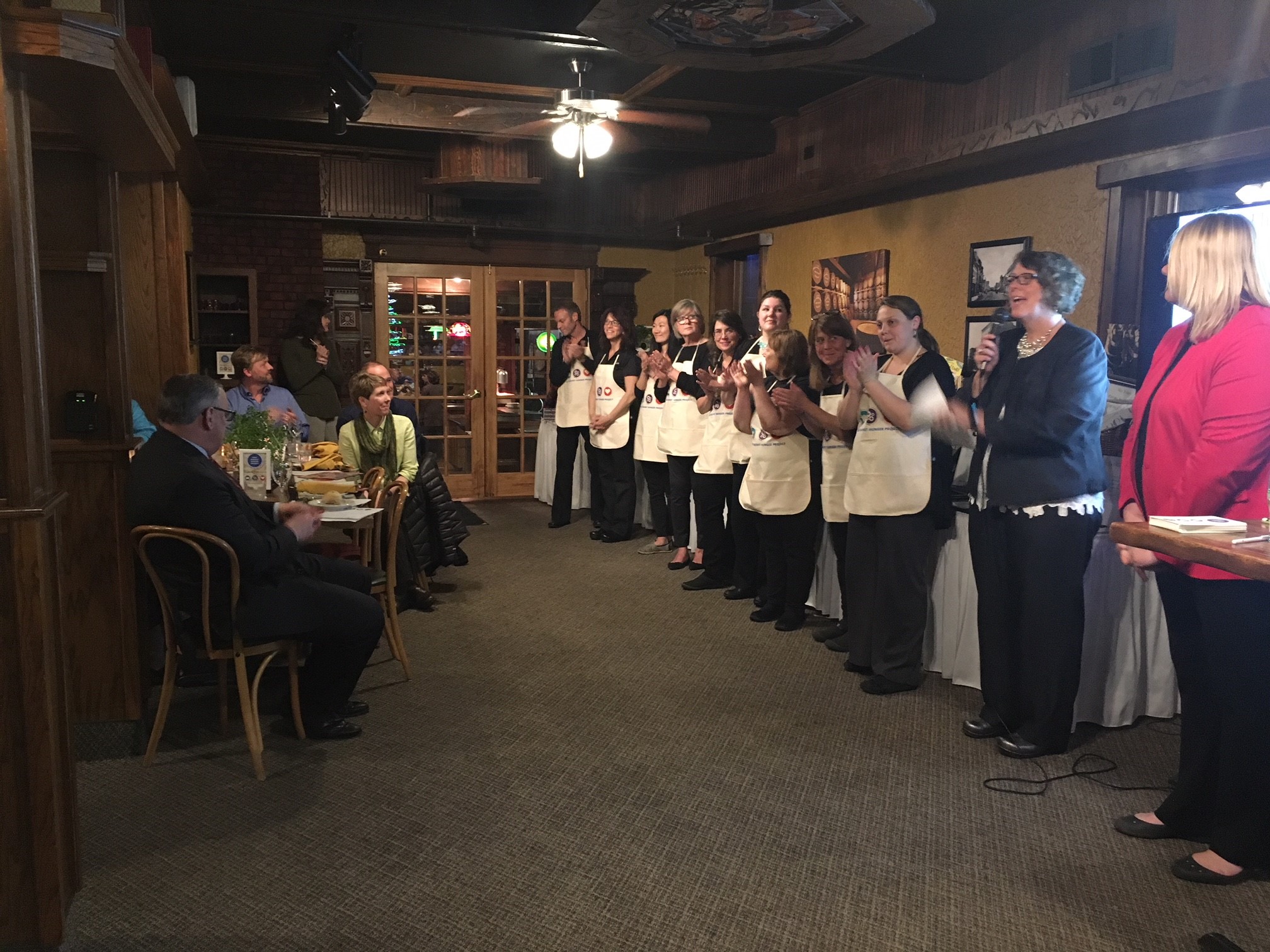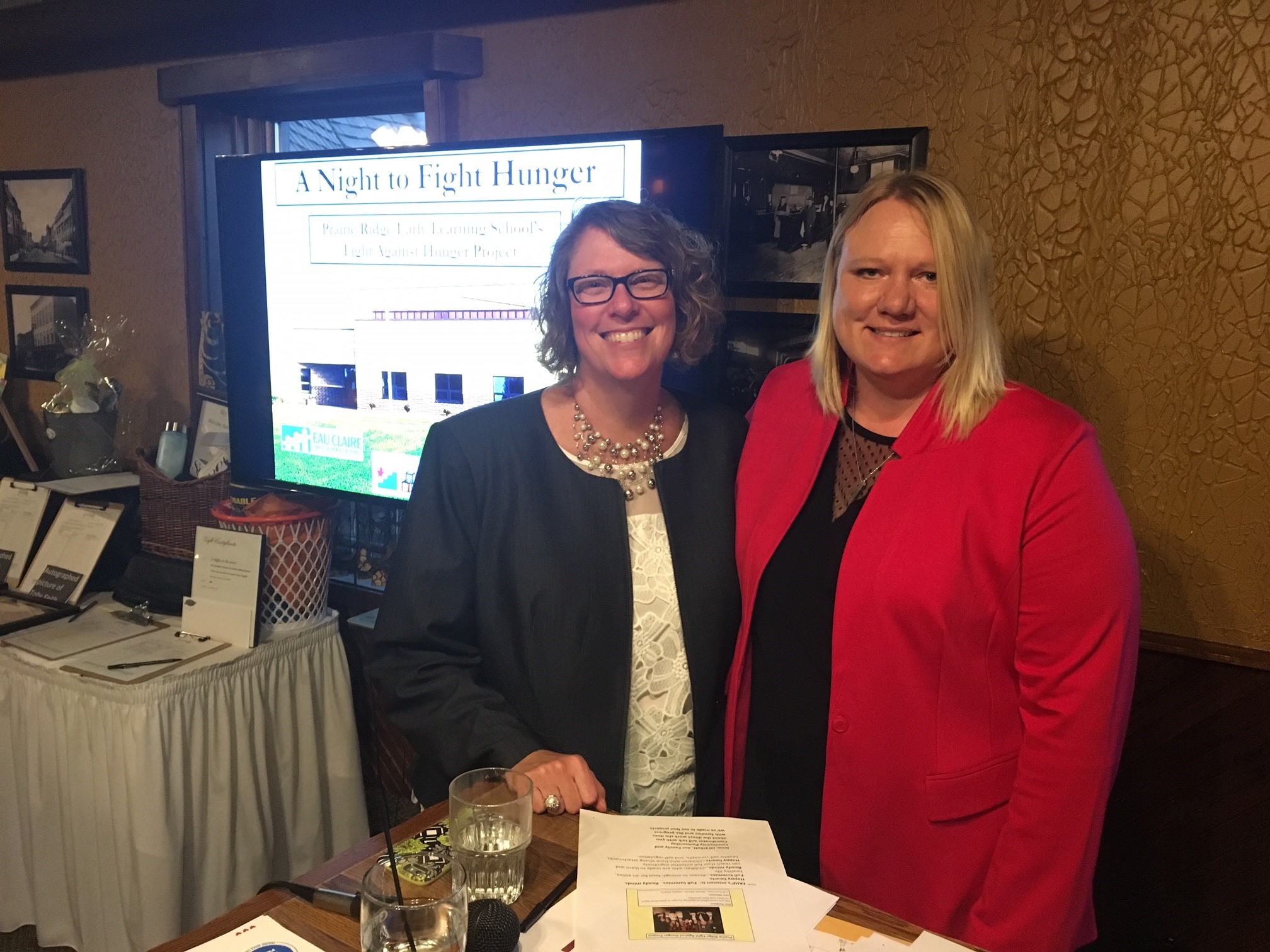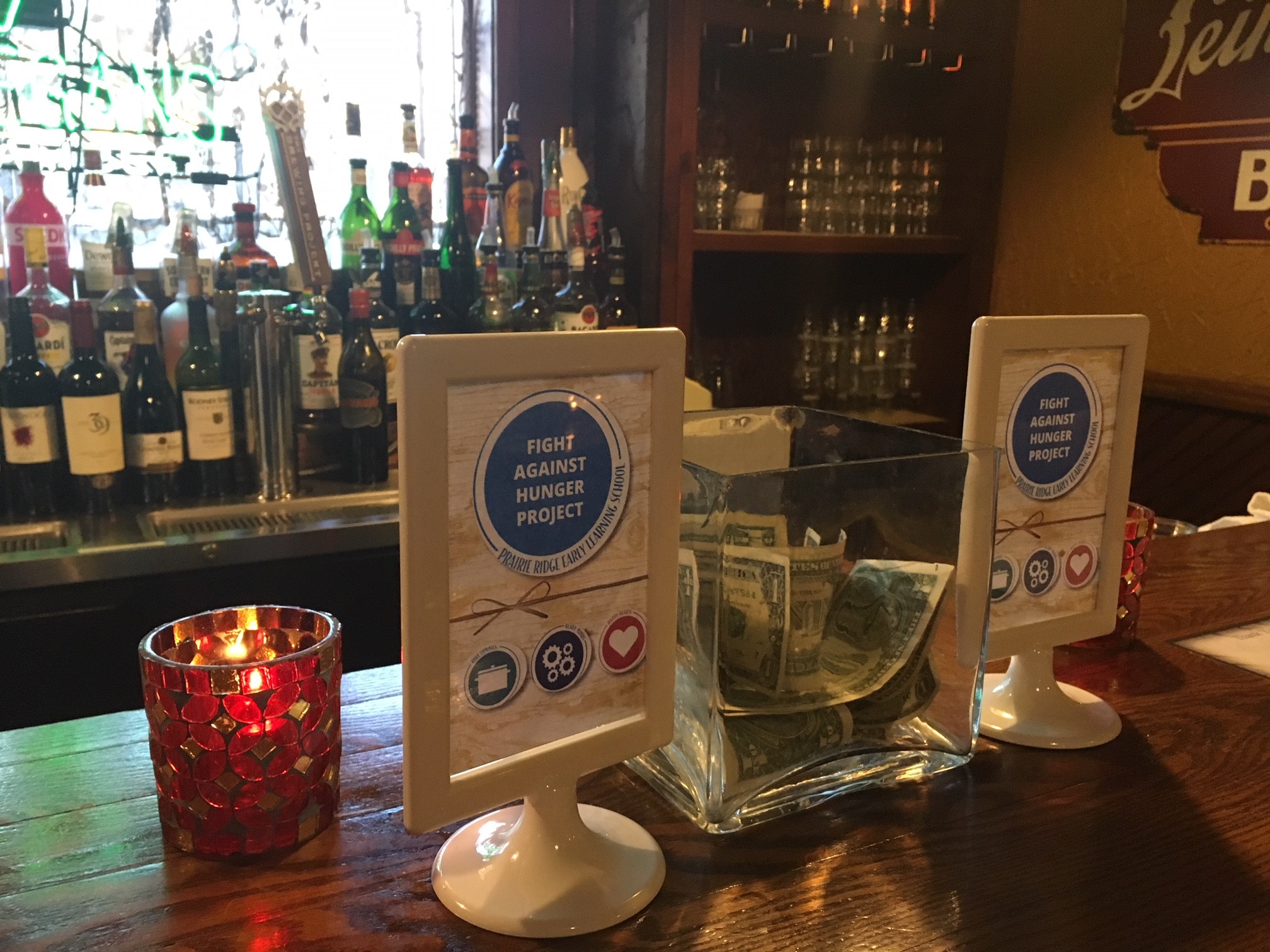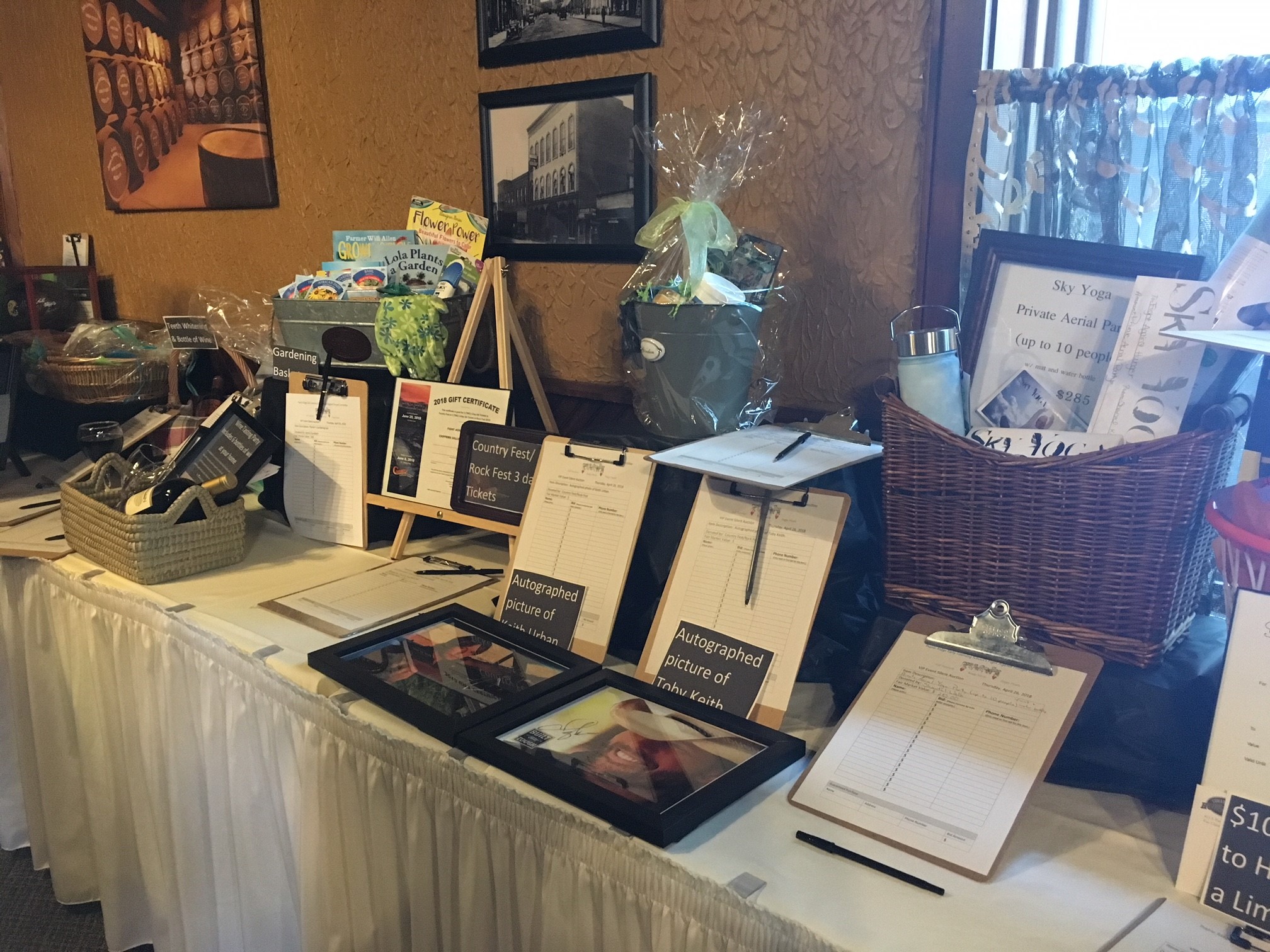 The 5th annual Prairie Ridge Night to Fight Hunger was another smashing success! Community members from across the Chippewa Valley came together Thursday April 26 evening at Houligan's Steak & Seafood Pub in Eau Claire to have a lasting impact on Eau Claire Area School District's early learners. The celebration was emceed by WEAU 13 News' Bob Gallaher, and featured a dinner, a silent auction, and information on the district's food insecurity and needs of our early learning families.
The Night to Fight Hunger event brought in more than $12,000 for the fund to support the Fight Against Hunger! These dollars go directly to support the Eau Claire Public Schools Foundation's Fight Against Hunger Fund. The fund support's Prairie Ridge Early Learning's four greatest impact practices to fight food insecurity at the school:
1. On-Site Food Pantry: provides access to food and toiletries at Prairie Ridge Early Learning School. Since the start in 2013, over 100,000 pounds of food have been distributed to Early Learning Families.
2. Summer Meals Program: delivering food and crockpot recipes to Early Learning families in the summer.
3. Educational Family Garden and Hoop House: development of a garden cultivates children's love of learning, an appreciation of healthy food, and a connection to the natural world. The garden aids in teaching families essential lifelong skills.
4. Crockpot Project: Provides the families of the 3-year-old students with a crockpot, recipes, and ingredients to cook together.
Many thanks to our sponsors for making the event happen: Houligan's Steak & Seafood Pub, Dessert First, Everett Fisheries, Breakthru Beverage Group, Asher's Lasting Exteriors, Banbury Place, Charter Bank, Chilson Motors, Imagineering/HOOPS, J&D Manufacturing, Morrie's Mazda, Green Bay Packers, Milwaukee Brewers, Jan Hildebrandt, Maddi Herzfeld, Oakleaf Surgical Hospital, Scheel's, Northern Tap House, May's Floral Garden, Red Coal BBQ, Sparrow Antiques, Vintage Junkies, Grizzly's, Great Harvest Bread, Asher Lasting Exteriors, Julie & Vince Maro, Bemis Bluff Winery, Sky Yoga, Chippewa Valley Dental Health, Dave Hazuga, Country Fest/Rock Fest, Scott & Tracy Trippler, John & Sue Ayres, Chris Hambuch-Boyle, Carlyn Conway, Jay & Susan Ganther, Dr. & Mr. Hardebeck, Larry & Laurie Haus, Sue Icsche, Carole Johnson, Greg & Sue Johnson, Eric & Janet Johnson, Jeff & Connie Melland, Rod & Michelle Radtke, Jim & Cheryl Schmitt, Paula Stuettgen, Pat Williams, Pain Clinic of Northwestern Wisconsin, Mark & Darla Weinfurtner, Dennis & Luanne Shea, Gary & Carol Mooney, Deb Nissen & Steven Bircher, Spence & Petey Ahneman, Marten Transport, and Jamf Software (Ben Michael).
If you would like to make a gift, or learn more about the program, please contact ECPSF
Executive Director, Sarah French at sfrench1@ecasd.us or (715) 852-3015.