The Golden Apple is awarded by nomination from peers and distinguishes one outstanding educator in each of the Eau Claire Area School District schools. The Eau Claire Public Schools Foundation partners with generous area businesses to honor and recognize exceptional service in the schools.
Business Sponsored Grants:
• Each honoree is awarded with $500 in unrestricted grant funding to use in their classrooms or buildings in any way they choose. The only requirement is that the funds must be used to impact students.
• Each school is also awarded a $500 grant to their Eau Claire Public Schools Foundation Fund For Today, which the principal can use for the school's greatest needs.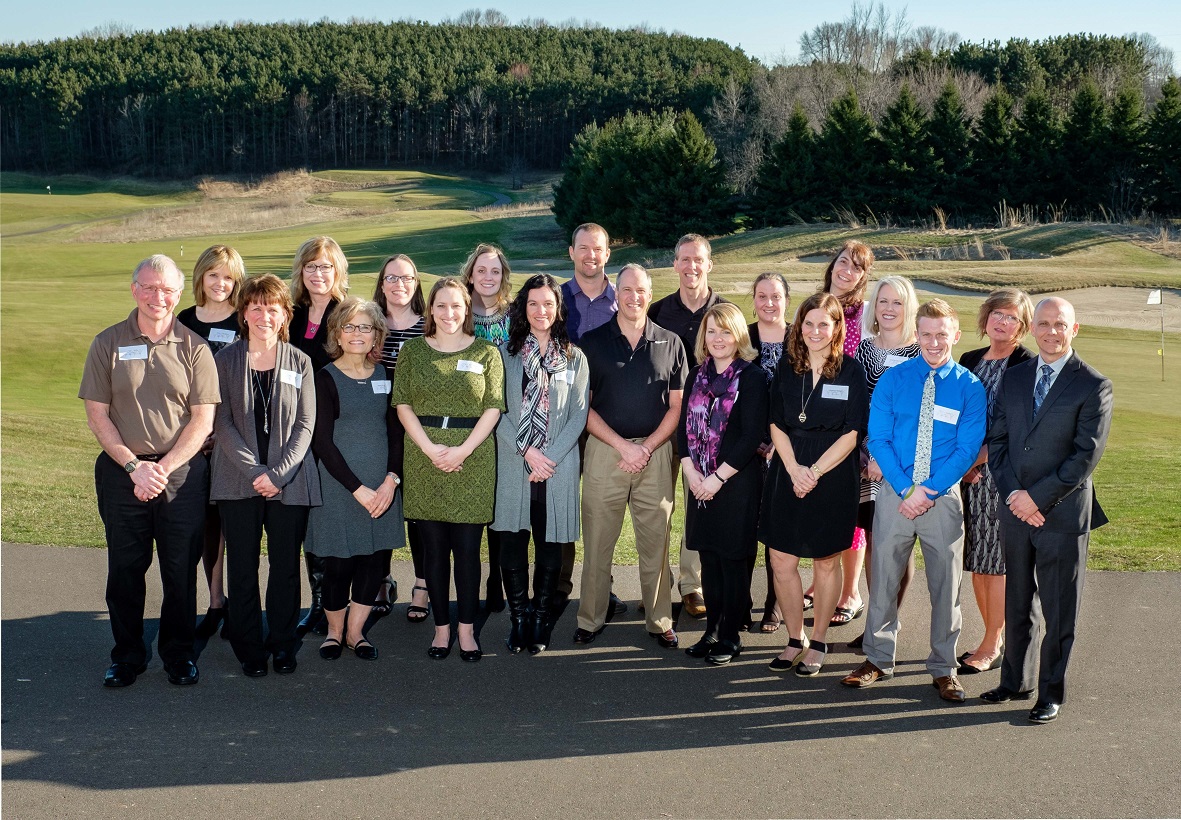 2017 Golden Apple Honorees. Second row, from left: Mary Uelmen, Dayna Smith, Becky Linderholm, Katie Engel, Mike Peplinski, Jason Wendtland, Renee Morehead, Michelle Olson, Heather Kapanke, Melinda Daubitz.
Front row, from left: Tom Dahl, Cheryl Moss, Sarah Binder, Megan McCrackin, Erin Layde, Scott Faris, JoAnn Waldhart Adams, Melinda Wright, Tim McManus, Jeremy Harrison.
Photo by Jeff Thompson
2017 Honorees and Sponsors

Congratulations to our 2017 Golden Apple Award Honorees and thank you for your incredible work with our students. We are fortunate and grateful for your service to our students, families, schools and community! Many thanks to the generous businesses who sponsored our honorees and support our schools.
Chippewa Valley Montessori Charter School honors Jeremy Harrison, Kindergarten-6th Grade Teacher
Sponsored by Mayo Clinic Health System
DeLong Middle School honors Sarah Binder, Special Education Teacher
Sponsored by C&M Homebuilders and Real Estate
Flynn Elementary School honors JoAnn Waldhart Adams, 3rd Grade Teacher
Sponsored by Marshfield Clinic and Security Health Plan
Lakeshore Elementary School honors Melinda Wright, Physical Education Teacher
Sponsored by Sylvan Learning
Locust Lane Elementary School honors Mike Peplinski, 4th Grade Teacher
Sponsored by Xcel Energy
Longfellow Elementary School honors Tom Dahl, Physical Education Teacher
Sponsored by Kristo Orthodontic Specialists
Manz Elementary School honors Becky Linderholm, English Learning Teacher
Sponsored by Indianhead Foodservice Distributor
Meadowview Elementary School honors Katie Engel, School Psychologist
Sponsored by UWEC College of Education and Human Sciences
Memorial High School honors Erin Layde, Biology and Life Science Teacher
Sponsored by McDonald's Courtesy Corporation
McKinley Charter School honors Megan McCrackin, Competency Component Teacher
Sponsored by Student Transit
North High School honors Renee Morehead, Family/Consumer Education Teacher
Sponsored by Royal Credit Union
Northstar Middle School honors Michelle Olson, 6th Grade and English Learning Teacher
Sponsored by Wipfli
Northwoods Elementary School honors Cheryl Moss, Special Education Assistant
Sponsored by McDonough Manufacturing Co.
Prairie Ridge Early Learning Center honors Melinda Daubitz, Headstart Assistant
Sponsored by Royal Construction
Putnam Heights Elementary School honors Dayna Smith, School Secretary
Sponsored by Marsh & McLennan Agency
Robbins Elementary School honors Heather Kapanke, Guidance Counselor
Sponsored by Ken Vance Motors
Roosevelt Elementary School honors Jason Wendtland, 4th Grade Teacher
Sponsored by Charter Bank
Sam Davey Elementary School honors Mary Uelmen, Special Education Assistant
Sponsored by Marine Credit Union
Sherman Elementary School honors Tim McManus, 2nd Grade Teacher
Sponsored by Market & Johnson
South Middle School honors Scott Faris, Science Teacher
Sponsored by Northwestern Bank
Many thanks to Bob Gallaher and WEAU for their dedication, time, coverage and service to this great cause; to Sacred Heart Hospital for their gift of design and print services; to Festival Foods for their gift of wine for the banquet dinner; and to Eau Claire Area School District for their loyal support of the Eau Claire Public Schools Foundation, and their support of the district faculty and staff!
Save the date for the 2018 Golden Apple Awards:
Thursday, April 5, 2018